Looking for small samples of writing? Check out the writing from my blog! Now on to the books…
The Adventures of Cara & Charlie
The Adventures of Cara and Charlie are a slightly satirical series for grown-up children and child-like adults.
#1 – A New Home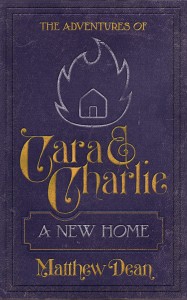 Cara is typical eleven-year-old: she loves roasted swan, hates swamp slugs, owns her own lakeside cottage, and has a dragon for a best friend, named Charlie.
When Charlie accidentally burns down Cara's cottage, the two friends set out to search for a new home. Unfortunately, the village mob, two murderous trolls, and a psychotic wizard with low self-esteem stand in their way.
#2 – Kingdom 46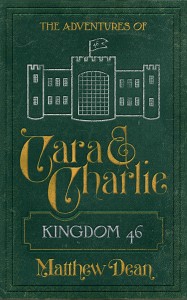 When King Herbert Shrub hears of the incident in Furrybottom, he is convinced by his advisors to declare a full-scale war against dragons.
Unfortunately, there's just one dragon in the kingdom: a perfectly friendly dragon named Charlie, whose only companion is a little girl named Cara. When Charlie is captured, Cara sets out to rescue him from the clutches of the kingdom and the politics of war.
Books as Dr. Matt
Dr. Matt is a character created by Matthew Dean. Every week on Facebook and Twitter, he gives satirical advice on relationships, sexuality, life, death, pet ownership, and mustache grooming. He also writes books.
Just Stop Having Problems, Stupid!
The Anti-Self-Help Guide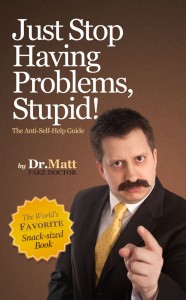 Are you tired of having stupid problems? Want them to stop? Have you tried just stopping them?
In this satire of self-help books, "Dr. Matt" sternly steps you through eliminating all of your problems (guaranteed), using silly metaphors, strange anecdotes, and the shortcomings of Superman to tell you how it's done.
If you're willing to not take yourself, your problems, or Dr. Matt's advice too seriously, then this is probably the book for you.
When It Comes To Relationships, You've Been An Idiot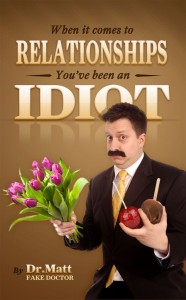 So, you're still rubbing those sore spots from a previous relationship.  This time, you promise yourself, everything is going to be different.  The problem?  When it comes to relationships, you've been an idiot.
You may have read books on relationships, but you haven't read a book like this one.