Looking for small samples of writing? Check out the writing from my blog! Now on to the books…

Books as Dr. Matt
Dr. Matt is a character created by Matthew Dean. On Facebook and Twitter, he gives satirical advice on relationships, sexuality, life, death, pet ownership, and mustache grooming. He also writes books.
Just Stop Having Problems, Stupid!
The Anti-Self-Help Guide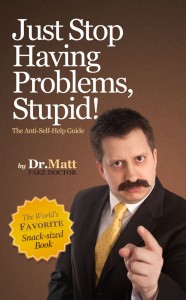 Are you tired of having stupid problems? Want them to stop? Have you tried just stopping them?
In this satire of self-help books, "Dr. Matt" sternly steps you through eliminating all of your problems (guaranteed), using silly metaphors, strange anecdotes, and the shortcomings of Superman to tell you how it's done.
If you're willing to not take yourself, your problems, or Dr. Matt's advice too seriously, then this is probably the book for you.
When It Comes To Relationships, You've Been An Idiot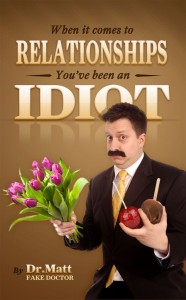 So, you're still rubbing those sore spots from a previous relationship.  This time, you promise yourself, everything is going to be different.  The problem?  When it comes to relationships, you've been an idiot.
You may have read books on relationships, but you haven't read a book like this one.